Road Trips in Young Adult Fiction
I do love a good road trip. Wind in your hair, volume turned up loud and either a journey in mind or mindless wandering. From the sunshine-filled and delightful to the soul-searching (or maybe even one long crime spree, as in Hello Girls by Brittany Cavallaro and Emily Henry), this little list of YA road trip novels will have something for all readers.
Hello Girls – Brittany Cavallaro and Emily Henry – Katherine Tegen Books – Published 6 August 2019
Hello Girls is an epic road trip novel slash crime novel slash ode to friendship slash feminist piece de resistance. With razor-sharp wit and punchy action, this book swings from hilarious to what the hell to hell yeah and back again.  Read full review.
---
 The Geography of Lost Things – Jessica Brody – Simon Pulse – Published 2 October 2018
The Geography of Lost Things is a fun road trip novel about learning to forgive and starting over. Jessica Brody weaves together a compelling story of second-chance romance and father-daughter relationships, family financial difficulties and learning to see again the value in little things.  Read full review.
---
A Heart in a Body in the World – Deb Caletti – Simon Pulse – Published 18 September 2018
Achingly poignant and beautifully written, A Heart in a Body in the World is a book that everyone, man, woman and teen, must read. It's a road trip – but one where the character runs the entire journey. Read full review.
---
 Autonomous – Andy Marino – Disney-Hyperion – Published 3 April 2018
Autonomous is an examination of the true nature of humanity, where buried secrets are laid bare and the harsh truths of reality are posed against the speculation of how technology might evolve and how it might reflect those truths. When William wins a state-of-the-art car in a competition, he plans to take his three best friends on an epic road trip. Read full review.
---
Good and Gone – Megan Frazer Blakemore – HarperTeen – Published 14 November 2017

When Lexi's brother Charlie suggests a road trip to locate missing pop star, Adrian Wildes, Lexi is shocked. Charlie hasn't moved from the couch since he broke up with his girlfriend and dropped out of college. So despite Lexi's scepticism, despite the hurt she has been feeling, she agrees. Along for the ride (and actually providing the means of transport for this road trip) is their neighbour, Zack. As Lexi, Charlie, and Zack hunt for the elusive pop star, they begin to work through the emotions, hurt, and actions of the past year.  Read full review.
---
Changes in Latitudes – Jen Malone – HarperTeen – Published 25 July 2017
Changes is Latitudes is a road trip novel set at sea. A story about big changes, facing the difficulties life throws up, family – whether it is broken or healing – and maybe even a chance at love.  Read full review.
---
Someone Else's Summer – Rachel Bateman – Running Press Kids – Published 9 May 2017
I enjoyed this book of road trips and love finally realised, summer lists, larger-than-life big sisters, shared memories, shared grief, and unanswered questions. Someone Else's Summer was refreshing and fun. Read full review.
---
The Way Back To You – Michelle Andreani and Mindi Scott – Katherine Tegen Books – Published 3 May 2016

Heart and humour so aptly describes this book. But it also packs a powerful punch. Have tissues on hand, but also be prepared to smile, giggle and full on belly laugh as Cloudy and Kyle work their way through grief, confusing feelings, and from the mountains, by the sea and on to the desert. All the best books are about road trips, and what an epic one this is, starting with awkward, tense silences, a touch of unrequited love, heartache and a kitten and winding up somewhere near moving forward, laughs, love and life, with a whole lot of hope and even a wedding thrown in for good measure. Read full review.
---
Open Road Summer – Emery Lord – Walker – Published 15 April 2014
After breaking up with her bad-news boyfriend, Reagan O'Neill is ready to leave her rebellious ways behind. . . and her best friend, country superstar Lilah Montgomery, is nursing a broken heart of her own.
Fortunately, Lilah's 24-city tour is about to kick off, offering a perfect opportunity for a girls-only summer of break-up ballads and healing hearts. But when Matt Finch joins the tour as its opening act, his boy-next-door charm proves difficult for Reagan to resist, despite her vow to live a drama-free existence.
---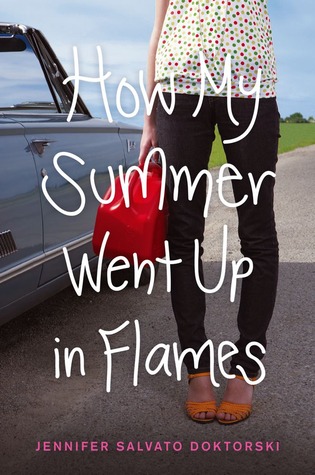 How My Summer Went Up In Flames – Jennifer Salvato Doktorski – Simon Pulse – Published 7 May 2013
From the outside Annabel seems to have the perfect life, even if her best friend hates her. But it's not until she meets Owen that she begins to learn that not only is she lying to those around her, but to herself as well. Owen teaches Annabel the beauty of true friendship, music, being honest with yourself and that it is ok to admit things aren't going so well, so long as you know your options. 
---
From What I Remember… – Stacy Kramer and Valerie Thomas – Disney-Hyperion – Published 15 May 2012
KYLIE: Mexico? What a nightmare! I should be putting the finishing touches on my valedictorian speech. Graduation is TODAY! Wait! Is this a wedding band on my finger??
MAX: It started with Kylie's laptop and a truck full of stolen electronics and it ended in Ensenada….
---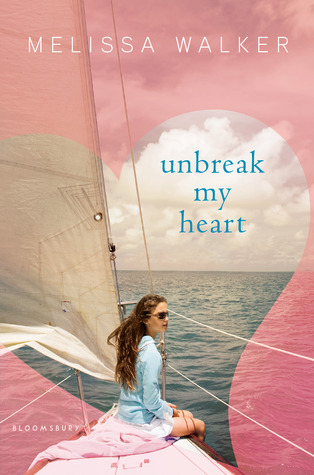 Unbreak My Heart – Melissa C. Walker – Bloomsbury Children's – Published 22 May 2012
Another sea-trip. Sophomore year broke Clementine Williams' heart. She fell for her best friend's boyfriend and long story short: he's excused, but Clem is vilified and she heads into summer with zero social life. Enter her parents' plan to spend the summer on their sailboat. Normally the idea of being stuck on a tiny boat with her parents and little sister would make Clem break out in hives, but floating away sounds pretty good right now.
---
In Honor – Jessi Kirby – Simon Schuster – Published 8 May 2012
After receiving her brother's last letter from Iraq, she and his best friend head off across the country to fulfil his last request of telling singer Kyra Kelly that he loved her.
---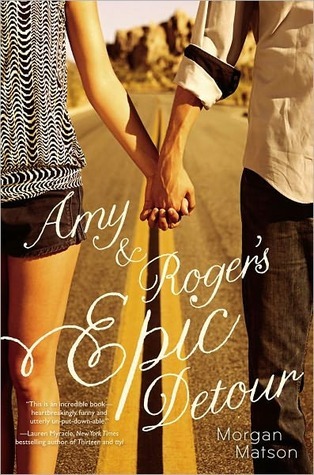 Amy and Roger's Epic Detour – Morgan Matson – Simon Schuster – Published 4 May 2010
Amy Curry is not looking forward to her summer. Her mother decided to move across the country and now it's Amy's responsibility to get their car from California to Connecticut. The only problem is, since her father died in a car accident, she isn't ready to get behind the wheel. Enter Roger. An old family friend, he also has to make the cross-country trip – and has plenty of baggage of his own. The road home may be unfamiliar – especially with their friendship venturing into uncharted territory – but together, Amy and Roger will figure out how to map their way.
---
What YA road trip novels do you love? Leave the titles in the comments below.